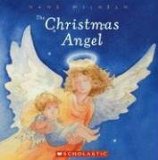 My 22 month old daughter owned the book The Christmas Angel by Hans Wilhelm. You will see why this is past tense at the end of my review. I am not sure where it came from, but probably from some thoughtful family member trying to respect our faith by giving our daughter a Christian book as a gift.
This is a story about a baby angel whose wings are not strong enough to fly yet. For Christmas, the baby angel wants to go see baby Jesus and give him a gift.
This book is 90% fiction with a few Biblical truths in the mix. How do you explain to a toddler that Jesus is real, but the rest of the story is not? I am sure I cannot successfully explain that at this age. I decided to google the author to see what perspective he was coming from. I found
an interview with the author, Hans Wilhelm
, and did not care for what I saw. Wilhelm suggests that parents should not teach their children because all parents have to offer is hate. Although there is a nugget of truth here, Wilhelm has missed the mark completely. Parents are to teach their children, in fact they are commanded by God to do so. Parents need salvation first and foremost, then the Holy Spirit will guide them in teaching their children. Wilhelm adores the blindness of children to the religion of others, instead he should have a heart for the lost and share the Gospel with the lost. Wilhelm goes on to say only Children can achieve peace and makes reference to Isaiah 11:6-9. Wilhelm has gone astray here too, giving children credit for an act of God.
For Wilhelm, writing about Jesus is no different than writing about Snow White. He has successfully portrayed Jesus as a fairy tale character in this book. The Gospel is fascinating on its own, there is no need to embellish.
What should I do with this book? I do not want to expose our daughter to it and I have no idea how it got on her bookshelf. If I had a receipt, I'd take it back and make a statement with dollars. Giving it away would only expose another child to something I have already condemned. The book is now in the trash.