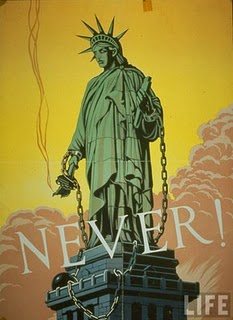 Today we celebrate freedom. Our country was founded on a desire for freedom; it is the chief value of Americans. We are indoctrinated from birth. Our schools teach us that our greatest gift was that of our forefathers fighting for the independence we now enjoy.
Many today are slaves to their freedom, afraid to break free believing to do so would be to forsake those that fought for our independence. This freedom is nothing more than a golden calf which has enslaved millions. The problem is much worse, so many believe their slavery is indeed freedom and are willing to fight to remain in slavery.
For many, being born in America is no gift at all. Those that never break free from their bondage to freedom wind up in the lake of fire for eternity. For these people, it would have been better for them if they had not been born.
Those born into the service of an earthly king understand their bondage. When they are presented with the Gospel, they can see their need for liberty in a way no American can. We can praise God for blessing us with freedom, but we should also recognize that this freedom may be part of God's judgment, ordaining the means where millions will have hardened hearts. Those whom God calls in this society bring all the more glory to God, showing the depths of God's great power and mercy.
This independence day, praise God for the liberty you have in Christ. Pray for those that are enslaved to American freedoms and ask God to break your heart for their souls so you may be the means they know true liberty — Christian liberty.