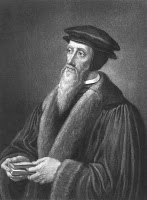 THOU SHALT NOT MAKE UNTO THEE ANY GRAVEN IMAGE, OR ANY LIKENESS OF ANYTHING THAT IS IN HEAVEN ABOVE, OR THAT IS IN THE EARTH BENEATH, OR THAT IS IN THE WATER UNDER THE EARTH: THOU SHALT NOT BOW DOWN THYSELF TO THEM, NOR SERVE THEM.
As in the first commandment the Lord declares that he is one, and that besides him no gods must be either worshipped or imagined, so he here more plainly declares what his nature is, and what the kind of worship with which he is to be honoured, in order that we may not presume to form any carnal idea of him. The purport of the commandment, therefore, is, that he will not have his legitimate worship profaned by superstitious rites. Wherefore, in general, he calls us entirely away from the carnal frivolous observances which our stupid minds are wont to devise after forming some gross idea of the divine nature, while, at the same time, he instructs us in the worship which is legitimate, namely, spiritual worship of his own appointment. The grossest vice here prohibited is external idolatry. This commandment consists of two parts. The former curbs the licentious daring which would subject the incomprehensible God to our senses, or represent him under any visible shape. The latter forbids the worship of images on any religious ground. There is, moreover, a brief enumeration of all the forms by which the Deity was usually represented by heathen and superstitious nations. By "any thing which is in heaven above" is meant the sun, the moon, and the stars, perhaps also birds, as in Deuteronomy, where the meaning is explained, there is mention of birds as well as stars (Deut 4:15). I would not have made this observation, had I not seen that some absurdly apply it to the angels. The other particulars I pass, as requiring no explanation. We have already shown clearly enough (Book 1. Chap. 11, 12) that every visible shape of Deity which man devises is diametrically opposed to the divine nature; and, therefore, that the moment idols appear, true religion is corrupted and adulterated.
Copied from The Institutes of The Christian Religion, Second Book, Chapter Eight.