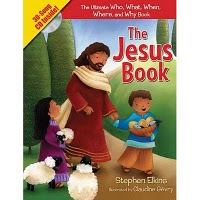 I was excited to see a comprehensive children's book on the doctrines of Christ. This book could have fit the bill at 96 pages on Jesus and written for kids 5-10 years old. I thought I may have some theological differences with the author, so I sat down with the book, a pen and a sharpie. I expected to make a few notes, maybe a redaction or two, then give it to my daughter. Instead, I will cut out a few pages that I will give my daughter and throw the rest of the book away.
Before I sink my teeth into the book, let me point out a few redeeming factors. Elkins does a great job of writing in a way children can understand. Claudine Gevry has done a great job with the illustrations. I am considering cutting some of the pages out where there are no theological errors and hanging them up in my daughter's room.
As most already know, I come from a reformed perspective. If you do not come from a reformed perspective, you may take less of an issue with this book than I do. The Arminianism runs rampant throughout the book. For example, one page is titled Why did Jesus die on a cross for me? The scripture for this page is Matthew 20:28 which says that Jesus gave "his life as a ransom for many." Why does the author assume the reader is among the many?
The book comes with a music CD. It starts off with Jesus Love Me, which is great,but I take issue later in the CD where Revelation 3:10 is sang over and over again. I am all for teaching scripture to kids, and using music is a great way to do it. However, I can think of many verses I would teach before Revelation 3:10. The only reason I can think of to introduce revelation 3:10 as a memory verse to young children is to use it out of context like many often do. Elliff only had room for a handful of verses, I'm quite sure the intent is to rip it out of context. When you yank the verse out of it's context, with a little elaboration from the evangelist, you can paint a cute picture of Jesus out in the cold knocking on your heart, begging to come in. Wont you let poor Jesus in, it is cold out there!
No Arminian book is complete without a sinners prayer. How do we recieve eternal life according to Elkins?
Dear God, I believe that Jesus is your son. I know he is a gift you have given me. Because of Jesus, I now have eternal life. By faith, I believe that Jesus has paid for my gift with his life. I receive your gift. I receive Jesus. Amen.
A comprehensive children's book on Jesus sounds nice, but I am still waiting to see one I am willing to give my daughter.