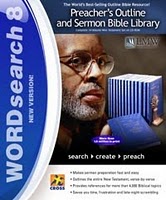 WORDsearch has provided me with some resources to review, and this one to give away.
Enter the contest up to three times. You will get one entry for each of the following:
2) Write a blog entry about this contest or any WORDsearch review, linking to it.
3) Make a comment on this post or any other WORDsearch post on this blog.
Do one or more of the above and fill out the following form. Enter by Sunday, September 27. The winner will be drawn on Monday, September 28. The winner will be contacted via email to obtain a shipping address.
You can submit this entry once per WORDsearch article on this blog. So, you can submit it once now, then when the next WORDsearch review comes out, you can enter again by commenting, tweeting, or blogging this article then filling this form out again.