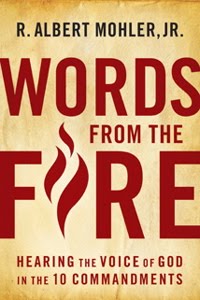 Last month we looked at Images of Christ in Church History, The Second Helvetic Confession on Images of Christ, and John Calvin's Exposition of the Second Commandment.
This month Dr. Al Mohler has released his new book,
Words from the Fire
. Mohler expounds the 10 commandments and gives us a chance to look at this issue from the perspective of a modern reformed theologian. Dr. Mohler appears to be in agreement with John Calvin and the Second Helvetic Confession on this topic. Mohler goes on to explain his position quite well in the second chapter of
Words from the Fire
and gives us the clearest conclusion we have looked at yet.
The following is an except from the end of chapter two which sums up Dr. Mohler's conclusion.
We are to make no image of Him. We should paint no pictures of Him. If we were to know the visual image of Christ, He would have left us His visual image. He did not. And every picture or portrait of Him is an invention, and as an invention, it robs Him of His glory. The worship of icons is just wrapped up in the foolishness of the same lie. God does not command or authorize the use of images in order to understand and worship Him. As a matter of fact, God condemns images and leaves no doubt concerning the matter.

Jesus Christ is not a visual image for us—He is so much more than that. And thus this commandment is also for us lest we turn our worship of Christ into another form of idolatry. We preach Christ crucified. We point to Christ in His glory. We preach the cross. We teach and preach all the things concerning the Christ. And we use words.

The second commandment is a clear condemnation of idols and images. We are not to use our creativity in order to fabricate an idol or to worship an image.
Copied from Words from the Fire, by Albert Mohler.