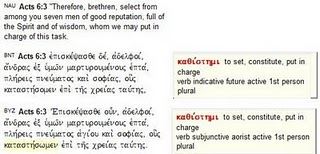 I do not read Koine Greek, however when studying the Bible, at times you need to look at the original language to really understand a nuance in the text. Several months ago a study of Acts 6:3 took me deep into a Greek textbook. I spent the whole evening looking at the Greek word for appoint and comparing it with the textbook. I ran into a commentary that said the word was in the indicative and the apostles would appoint the people selected by the masses as deacons no matter what — the form of the word told us so. This sounded wrong to me, apostles are apostles and they do not have to listen to the masses. I checked the Byzantine textform to see if this version of the Greek said the same thing. Indeed, the word was different, but that is all I knew, different in what way took me into a Greek textbook for the evening learning of various forms of Greek words. I learned the Byzantine textform showed the word in the subjunctive. So, maybe the apostles had a final veto in case they did not approve of the people selected by the masses if Robinson got the word right.
When I received my review copy of BibleWorks 8, this was among the first things I checked. How much time would it save me in doing such a study? BibleWorks would have saved the entire evening. Once you select the Bible versions to show on screen, point to a Greek work and BibleWorks pops up giving you all the details. My evening of study could have been complete in 2 minutes if I had BibleWorks 8 that night. The screen shot here shows the 1995 NASB, the Byzantine Textform 2005 and the NA27. I've photoshopped in the pop ups so you can see them both at the same time.
A more complete review of BibleWorks 8 is coming soon, but I wanted to share my initial reactions now — which are quite positive.