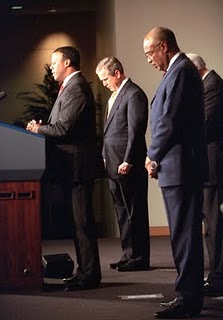 As many already know, I handle IT for The National Center for Missing Adults (NCMA). NCMA has recently merged with another missing person's agency, Let's Bring Them Home (LBTH). LaDonna Meredith is a leader from LBTH and by the Lord's good providence and grace is also a Southern Baptist just as I am. Yesterday we were considering a significant matter of business and both spoke to the Lord about it. This experience has led me to thought on prayer in business.
If we expect God to bless our business dealings, we must ask him to guide us in business and submit to His will. Decisions must be considered prayerfully. In ministry, this is commonplace. But shouldn't we take all of our concerns to God, including our business concerns? The following is an excerpt from the Bethlehem Baptist Church Employee Handbook. I believe a morning prayer meeting would be of great benefit to secular business as well, assuming a believer is in the position to set it up.
Rejoice in hope, be patient in tribulation, be constant in prayer. Romans 12:12

Because prayer is one very good way to glorify God, and because what we need is what God can do, and because nothing lies beyond the reach of prayer except that which lies outside the will of God, and because prayer is a means God uses to give us what he wants, and because he has promised not only to meet us in our individual prayer closets but also where two or three are gathered together in his name…each weekday at 8:45 am, the staff gathers on all three sites to pray for each other and for the day's concerns and activities. All are welcomed and strongly encouraged to come, but attendance is not mandatory.
If a believer is not in a position of authority to officially sanction such a prayer meeting, perhaps you can unofficially start a prayer meeting and conduct it when you are off the clock. Not only does this give you an opportunity to seek God's direction in your business dealings and be obedient to God, but it is a great opportunity to share your faith with your colleagues whom are not believers. We can take this even further, just as no matter of the church is discussed in a meeting without opening and closing in prayer, in business we can do the same. If this is not possible for you for whatever reason, I'd suggest praying over the meeting agenda before you attend either alone or with your believing colleagues.
As a disclaimer, I am not an attorney, before you institute corporate policy on prayer, you may want to consult one!