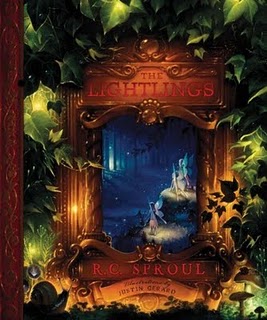 Written in a similar style to The Prince's Poison Cup, or visa versa considering The Lightlings was published first. The story begins with little Charlie Cobb; he asks his mom a tough question which she refers to wise Grandpa. Grandpa begins his embedded allegorical tale just as any story Grandpa tells: Once upon a time…
The allegory is clear for our young children and will help them grasp Biblical concepts. The story begins with creation, continues with the fall of man, and ends with the gift of Jesus.
The allegory does lack a clear call to faith and repentance. I recommend also getting a copy of Sproul's
The Prince's Poison Cup
which is an allegory explaining atonement and is the next logical story to help children understand the Gospel.
Sproul provides three pages of discussion topics for parents to use after reading this book. This discussion time is essential so that we can relate the story back to the scriptures. Sproul does a fantastic job of equipping us to minister to our children.
The Lightlings
is suited for children ages 4-10, the younger side needing more help of course. Justin Gerard has done a fantastic job with the illustrations; they will mesmerize your children.