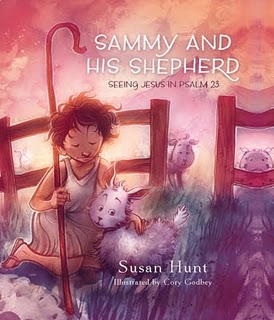 Reformation Trust children's books are refreshing. Theological sloppiness is common in children's resources, but I've come to trust the material from Reformation Trust to be sound. I asked the author of Sammy and His Shepherd, Susan Hunt, how she ensures theological accuracy in her book. Susan Hunt is the wife of a retired PCA pastor whom gives support and helps with theological accuracy. In other cases Susan Hunt gets additional review from other pastors, friends, or the elders of her local church. In the case of Sammy and His Shepherd, she "had great confidence in the theological oversight of the Ligonier editors" and didn't see the need for additional oversight. I agree her confidence was well placed as I too have come to trust the theological oversight of the Ligonier editors.
Susan Hunt takes us through Psalm 23 in a way both parents and children will learn from. Cory Godbey did a wonderful job with the illustrations, but the words to pictures ratio was a bit off to keep my two year old's attention. I'd recommend this book for ages 5 and up. I do not mention an upper limit here because even though this book is targeted for kids, tweens, teens, and even adults will find the book entertaining and enlightening.
Sammy and His Shepherd
is a allegorical tale where Sammy (a Christian) has a wonderful Shepherd (Jesus) and befriends a sheep with a bad shepherd (a lost friend). In each of the eleven chapters, Susan Hunt does a wonderful job of using the allegory to exegete a passage of Psalm 23.
At the end of the story, Susan Hunt has provided us with a great teaching resource to use in discussing the book with our children. For each chapter we are given a section of what the Bible tells us, something to talk about, and something to do.
Sammy and His Shepherd
is a great story that will give both parents and children a deeper understanding of Jesus and Psalm 23.
About the Author
Susan Hunt is a consultant for the Presbyterian Church in America's Women in the Church ministry, which she formerly directed. She holds a degree in Christian education from Columbia Theological Seminary and has written Sunday school curricula for Great Commission Publications. She is a popular speaker at conferences in the United States and abroad. Her numerous published books include Women's Ministry in the Local Church (co-authored with Dr. J. Ligon Duncan III) and Heirs of the Covenant, plus such children's titles as My ABC Bible Verses and Big Truths for Little Kids (co-authored with her son Richie Hunt). Susan and her husband, Gene, a retired pastor, make their home in Marietta, Georgia. They have three adult children and twelve grandchildren.