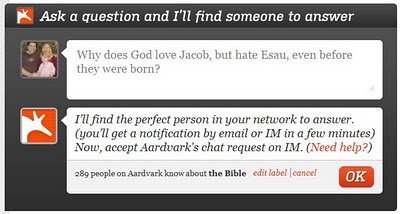 Robert Scoble blogged the top 25 startups to watch in 2010. #2 on his list is Ardvark. You ask a question on Aardvark, and you are matched with a friend or friend of a friend to answer you. Aardvark allows you to login using Facebook, then pokes around in your content to determine what kind of questions you can answer and who your friends are.
As an experiment, I thought I would see how Aardvark would handle some theology. I asked "Why does God love Jacob, but hate Esau, even before they were born?"
Shortly after asking the question, I started getting emails with answers. Over a 15 minute period of time, I got five answers to my question.
The first answer comes from someone that doesn't seem to believe the Bible is the Word of God. I did let him know that it is.
Dont take the story literally. Its just a metaphor. Look for a deeper meaning. There is no right answer…it is what u make of it.
The second answer simply ignores the Biblical text.
The third answer gives the question some thought. Personally I take the word hate at face value, but I know that Strong's says it means "loved less." This person makes the mistake of thinking all people are God's children, when the Bible clearly teaches a difference between children of God and Children of the devil.
God loves all of his children unconditionally, so "hate" here clearly doesn't mean "hate" in the sense that you and I think of hate. Just looking on the surface, my initial guess would be that this is talking about blessings. Jacob was given the birthright after Esau lost it. The order of events here is largely irrelevant, because the Lord sees the end from the beginning, and often times the physical "cause" of our blessings comes before the spiritual obedience that we are being blessed for. Of course this is only a guess, and I haven't bothered to validate it by digging into definitions of the original language.
The fourth answer is a typical Arminian one.
The ability of the Almighty to know all things is shown time after time in his selection of men who prophesied under his direction by holy spirit. To be able to ascertain the heart condition of those twins and their love for or lack of love for spiritual things is a testemony to his perfect wisdom.The fulfillment of these prophesies builds our faith in God
Finally, the fifth answer is pretty good
Paul sort of answers that question in romans 9, and I think it is best in the New Living Translation "But before they were born, before they had done anything good or bad, she received a message from God. (This message shows that God chooses people according to his own purposes; he calls people, but not according to their good or bad works.) She was told, "Your older son will serve your younger son."In the words of the Scriptures, "I loved Jacob, but I rejected Esau." Are we saying, then, that God was unfair? Of course not! For God said to Moses,

"I will show mercy to anyone I choose,

and I will show compassion to anyone I choose.""

read the whole chapter for a better understanding. Romans 9:10-23

response from: M. Andre P./19/M/Rochester,NY
This was an interesting experiment. Caveat Emptor. Be discerning, Aardvark probably isn't the best place to get your answers to theological questions. I did respond to each person and perhaps some good will come of the interactions.