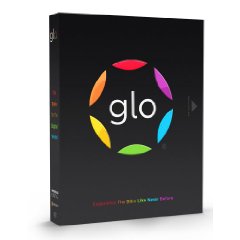 As a Bible reading platform for the layman, Glo's technology really stands out. Glo brings together text, video, maps, and the Bible text in a well presented fashion. The navigation system is easy to use and familiar. Researching a topic is like using an online mapping service. Just as you start off with a globe and zoom in to find states, cities, then streets; in Glo you see clouds of major topics, zooming in shows more and more sub-topics. Unfortunately, this flashy technology will expose you to some questionable theology.
Maps
The mapping software is also quite cool. You can zoom in on modern satellite and aerial images. This is cool, but I wonder if it is really beneficial. Zooming in on the swimming pool behind a house where Ephesus was might be neat, but it doesn't serve much purpose for the sake of Bible study. In fact, this seems to be more of a distraction than anything else.
Translations
Glo provides KJV, NIV and CEV translations of the Bible.
Articles
Bible Study Tools
Note taking in Glo is a place where the technology shines. Your notes build up a journal and they are stored online for safe keeping. You can also take screen captures of anything you are working on in Glo to save as PDFs or JPEGs.
Pictures
As I look through the images, I see a lot of content that is a distraction more than anything. For example, alongside Matthew 15:16-17, we are shown a picture of native children from the neighborhood of Jerusalem. I do not see how this is relevant. Also, images of Christ are abundant, which I believe is sinful. Sometimes a picture can be a help, but I do not trust these pictures.
To compare, the ESV Study Bible has a picture of the ark. I trust the editorial team of the ESV Study Bible enough to believe they took great care following the scriptures to create this picture. In Glo, you will find multiple different pictures of the ark, and I doubt that much care was taken or that any editor compared the pictures to the Biblical text.
Video
My biggest problem with Glo is the video content. It is horrible. After reading some great written articles, I was shocked by the videos. The videos constantly undermine the sufficiency of the scriptures. Writer and narrator, Troy Schmidt, often starts segments by saying "To truly understand the God Man…" then he interviews a modern fisherman or a nun or goes to a historical site. Let me make this clear: to truly understand Jesus, read your Bible.
Glo as a platform
This year, Glo will be releasing tools to customize the content distributed with Glo. I do not recommend this product as it comes off the shelf because I dislike the stock content. However, the technology is very cool. With the proper authoring tools and content, you could release a theologically sound version to your church members. I could see some mega churches doing this, including video sermons indexed by Bible verse and topic. I would buy a copy if it was filled with theologically sound content. Perhaps someone wants to make a John Piper version? He surely has enough published work online to fill a product like this.