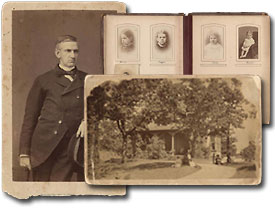 This hymn was penned by Horatio Spafford. Horatio was a great man of faith who trusted God's will so much that after devastating events he was able to say "it is well with my soul." The Library of Congress has a great online exhibit telling the story.
In 1871, Horatio Spafford, a prosperous lawyer and devout Presbyterian church elder and his wife, Anna, were living comfortably with their four young daughters in Chicago. In that year the great fire broke out and devastated the entire city. Two years later the family decided to vacation with friends in Europe. At the last moment Horatio was detained by business, and Anna and the girls went on ahead, sailing on the ocean liner S.S. Ville de Havre. On November 21, 1873, the liner was rammed amid ship by a British vessel and sank within minutes. Anna was picked up unconscious on a floating spar, but the four children had drowned.
Could you say "it is well with my soul" after hearing that your children have drowned? We must grab hold of the fact that all things work together for the good of those who love God (Rom 8:28) and trust Him.
It Is Well With My Soul
1873
When peace like a river attendeth my way,
When sorrows like sea-billows roll,
Whatever my lot, Thou has taught me to know:
"It is well, it is well with my soul."
Tho' Satan should buffet, tho' trials should come,
Let this blest assurance control,
That Christ hath regarded my helpless estate,
And hath shed his own blood for my soul.
My sin – oh, the bliss of this glorious thought!
My sin – not in part but the whole –
Is nailed to His cross, and I bear it no more;
Praise the Lord, praise the Lord, oh, my soul.
And, Lord, haste the day when the faith shall be sight,
The clouds be rolled back as a scroll,
The trump shall resound, and the Lord shall descend;
"Even so – it is well with my soul."
For me, be it Christ, be it Christ hence to live,
If Jordan above me shall roll,
No pang shall be mine, for in death as in life,
Thou shalt whisper Thy peace to my soul.