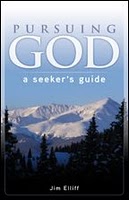 When we witness, content is important. Even when we only have a few words to use, we still need to be a faithful witnesses.
As an exercise in remaining faithful even with few words, I've partnered with Christian Communicators Worldwide to host a Twitter contest.
The rules:
Share a statement that fits in a tweet that starts "The cross is"
Either tweet it or post it in the comments here
Use no more than 140 characters including "@witnesses #TheCrossIs " which should be how you start your tweet. That means you have only 117 characters of your own to use. This will make sure I catch all the entries.
Enter from only one twitter account, but enter as many times as you want with unique tweets. No duplicate entries, please.
Enter by midnight Eastern time on Monday February 15th. A poll will then be opened up and the top three vote getters for best tweet will win their respective prizes.
The prizes:
Pursing God
Pursuing God is itself a great example of making content a priority. It is a seekers guide, but it is by no means "seeker sensitive." Jim Elliff makes no attempt to force decisions or win converts with some consumer driven need. Instead, Jim Elliff is faithful to the scriptures and wins souls with the Word of God.
You can use these books in personal evangelism or in your local church. For thanksgiving my local church gave away 18 copies of Pursuing God, accompanied with a turkey and a complete thanksgiving dinner. I also keep some in my Sunday School class to give to new faces that I see. If we had more money in our budget for outreach materials, I could easily use a case of them for God's glory. Pursing God retails for $5.95 per copy, discounts are available based on the number of copies you buy. Visit the
CCW catalog
for more details.
Get started