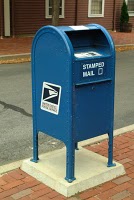 The only foot traffic in town is in and out of the post office. Our plan was to offer free bottles of water on a hot day along with a copy of the Gospel of John in front of the post office. The VFW sets up a table there at times and gives away America flag pins while soliciting donations. However, I was told that the church could not pass out anything, not water, not tracts, nothing unless we went across the street. The postal worker suggested I pass out water in front of the Fire department, although I am not sure I've ever seen a single person walking by the fire department.
Before I spoke with the post office, I assumed it could be done without permission. I assumed it was protected speech and I assumed they knew that and letting them know we would be out there would be a nice friendly thing to do. I was wrong, they seem pretty hostile to the idea of having us out there. When I attempted to negotiate a way to work it out, the reason we were not welcome kept changing. They said people do not want to be bothered, they cited their insurance rates, they said I would be in peoples way, they said it was a bad day of the week – then they said no day is a good day of the week. I asked for a copy of the written policy that prohibits this activity, but they could not produce one.
This seems like a good outreach opportunity. I hope to peacefully come to an agreement with the post office to make this happen. I read the Postal Operations Manual, which states in section 124 that there is to be no soliciting or political campaigning inside or outside on post office property, but only limits leafleting inside and restricts the use of tables outside. We did not plan to bring a table, but assumed it would be allowed since the VFW sets up a table. The Alliance Defense Fund has sent this set of facts to an attorney for an opinion. Please pray that we are able to come to a peaceful arrangement with the post office to make this ministry possible.
The good news is that the postmaster is out of town, and the employee that told me "not while I am in charge" will not be in charge indefinitely.