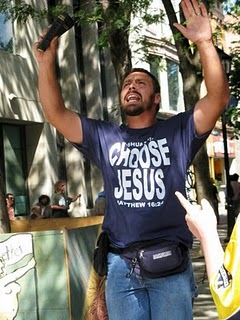 Jeremy Sonnier is a traveling evangelist who ran into a surprise when he attempted to evangelize at Southeastern Louisiana University. Sonnier was asked to leave because he did not have a permit. He attempted to obtain a permit, but was unable to because of the regulations. SLU's free speech regulations require an application to be made seven days in advance along with several other regulations.
According to the appeal, Sonnier challenged five provisions of SLU's speech policy: (1) the seven-day notice requirement; (2) the two-hour, once-per-week limitation; (3) the collection of personal information; (4) the security fee requirement; and (5) the limitation of speech to three specific locations.
The district court denied the motion for a preliminary injunction that would have prevented SLU from enforcing it's free speech policy. On appeal yesterday July 27, 2010, the court issued a preliminary injunction, but only preventing SLU from requiring a security fee. In the meantime, the other four conditions remain in effect.