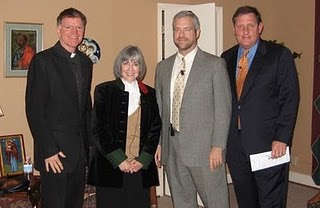 "For those who care, and I understand if you don't: Today I quit being a Christian. I'm out. I remain committed to Christ as always but not to being 'Christian' or to being part of Christianity. It's simply impossible for me to 'belong' to this quarrelsome, hostile, disputatious, and deservedly infamous group. For ten years, I've tried. I've failed. I'm an outsider. My conscience will allow nothing else."
Ann Rice was never a Christian to start with. She was a member of the Roman Catholic Church, which teaches a Gospel other than the Gospel of Jesus Christ presented in the Bible. Ann Rice left the Roman Catholic Church, she did not leave Christianity, because she never was a Christian.
I do not blame her for not wanting to be part of the Roman Catholic Church, because they teach a false gospel that leads countless numbers to hell. However, Ann Rice left the Roman Catholic Church for teachings that are in fact Biblical. Ann Rice told NPR that she left over Roman Catholic positions on social issues and the last straw was American bishops campaigning against gay marriage. The Bible is very clear on the teachings of sex and marriage. God's Word says sex is to happen only in the context of marriage between a man and a woman.
Ann Rice claims to remain committed to Christ, however, the teachings of Christ are the very reason she left Catholicism. You cannot be committed to Christ and refuse to obey Him. That is no commitment at all. If Ann Rice were born again, she would not be repelled by God's commands.
The Word of God calls Christians "The Bride of Christ" and 1st John makes it clear that true Christians have a special love for other Christians and they obey God, including not forsaking the gathering of believers. Ann Rice has forsaken a gathering of the religious, but was never a part of the true church.
Please join me in prayer for Ann Rice, that she would hear the
true Gospel
and respond with faith and repentance.