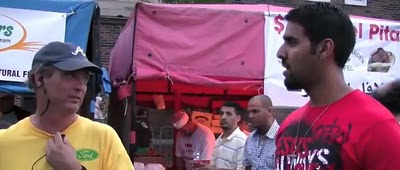 Roger Williams affirmed the police report against Acts 17 to be accurate in an interview with Witnesses Unto Me and is sticking by his statements made to police. Acts 17 allowed Witnesses Unto Me access to the raw unedited video footage from three cameras to see what really took place.
The incident Williams reported to the police sounds quite long. The police recount Williams testimony "He added that he felt extremely uncomfortable and thought he could not leave although he attempted to several times." In reality, the situation captured on video matches David Wood's testimony in a
previous interview
with
Witnesses Unto Me
. In fact, Williams had radioed security only thirty seconds after the interaction began. Acts 17 was walking down the street and saw
Luke
speaking with Roger Williams. Luke previously told Nabeel Qureshi of Acts 17 that he was taken to the police by Williams for handing someone a Gospel tract, Nabeel says "You good?" to Luke, who confirms they are "having a friendly conversation." Nabeel says "I just wanted to make sure he wasn't messing with you or anything" then walks away. As Acts 17 begins to walk away, Williams stops them and says "You don't have to worry about me messing with him, you need to worry about me messing with you, alright?" Williams only accusation against Acts 17 to their face is that they were complaining, but he never clarifies what that means. Williams says he would explain if the microphone is turned off, but never does even after it is turned off. The entire interaction takes about 2 minutes. Amal Alslami, a Muslim and employee of the American Arab Chamber Of Commerce told the police she witnessed this event and affirmed Williams statement. However, the videos do not show Alslami anywhere in sight during the encounter, but she drives up on a golf cart approximately five minutes later, takes pictures of Acts 17, then leaves. Alslami later tells police that she did not witness the incident.
When confronted about the discrepancies, Rogers says "This is why I did not want to be on any video tapes. It is always twisted. I … wish it had never happened at all. I am not after them or anyone else." The way in which the raw unedited video has twisted anything escapes this author.
Williams told
Witnesses Unto Me
that this was his second year at the Arab Festival, however, he told police this was his tenth year. Last year
Williams came
with seven other volunteers to the festival for the first time with
Impact International
, an organization that has been volunteering at the festival for 11 years now. This year, Williams came with 50 others from
Trinity Baptist Church
. Roger believes that Acts 17 misunderstands the very chapter of the Bible they are named for. Roger believes that the example of evangelism in Acts 17 shows a relationship being built before the Gospel is shared. This was the method used by Trinity Baptist Church, they came and served the Arab community by volunteering, built relationships with Arabs, then shared the Gospel with them as opportunities arose. Williams insisted that his difference of opinion on evangelistic methods had nothing to do with his filing a complaint with the police against Acts 17.
After Roger's trip to Dearborn in 2009, he believes God gave him a burden for the Arab people. In the last year he spent 30 days teaching in an Arabic speaking country, which he didn't want to name for security reasons. He is currently working on his undergraduate degree at Trinity Baptist College. He plans to continue strait into his masters degree to equip himself for long term service in an Arabic speaking country teaching English as a means to share the Gospel.
David Wood of Acts 17 doesn't believe Roger Williams is the sort of person who should be involved in missions. As of publishing, the Dearborn Police have not commented on whether or not charges would be brought against Roger Williams or Amal Alslami for making false statements to a police officer. Nabeel hopes to talk with Roger directly to confront him in the spirit of Matthew 18 and seek his repentance.