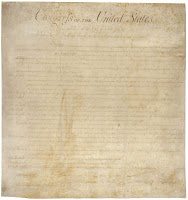 Protected Lies
False factual speech [aka lying] is protected by the 1st amendment according to today's ruling by the 9th circuit appeals court. Javier Alvarez pleaded guilty to lying about receiving a Congressional Medal of Honor in violation of the Stolen Valor Act, but reserved his right to appeal the constitutionality of the law. Alvarez's appeal was a success.
the right to speak and write whatever one chooses-including, to some degree, worthless, offensive, and demonstrable untruths-without cowering in fear of a powerful government is, in our view, an essential component of the protection afforded by the First Amendment.

United States v. Alvarez

, 08-50345, 2010 WL 3222192 (9th Cir. Aug. 17, 2010)
The court did not address factual statements which are self contradictory.
Protected Impaired Driving
Julie Anne Yencer was arrested by an officer of the Davidson College Police Department for driving while impaired and reckless driving on a street adjacent to campus. Her conviction was overturned today. The problem? Davidson College is a Christian college and the government delegated police authority to it, which the Court of Appeals of North Carolina ruled to be a violation of the establishment clause "Congress shall make no law respecting an establishment of religion." However, the appeals court was following the case law and begged the supreme court to take the case in their conclusion: "should Davidson College seek discretionary review of this decision by our Supreme Court, we urge our Supreme Court to grant such review."