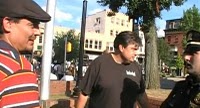 Judge finds Jacobs guilty of violating the noise ordinance but dismissed the charge of disorderly conduct. Catch up on the story if you haven't followed it.
Interestingly, part of the Judge's decision was based on the fact that Jacobs was not ordained as a preacher by any ecclesiastical body. She choose not to allow him to claim the exemption to the noise ordinance which allows for outdoor worship services. The Lehigh Valley News reports that when asked who ordained him to preach, Jacobs answered "By man? Nowhere. I'm ordained by the Word of God."
Read
Lehigh Valley News' coverage of the court proceedings.