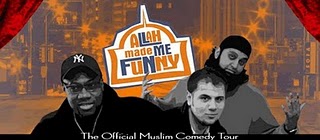 US Embassy in London requests $39,000 to hire Muslim comedians.  According to a cable posted on WikiLeaks, dated Friday, 18 April 2008, The US Embassy in London was asked to participate in "Ramadan Nights."  The goal was to "[bring] together the British Muslim community in a positive atmosphere of learning and a global sense of community."
The cable explains:
The Embassy proposes to bring the "Allah Made Me Funny" comedy troupe to the UK to participate in the Festival, building on the unparalleled success we achieved with their UK program last fall. Their appeal in not restricted on an particular age group of background, and the message their performance would send, of American Muslims, proud to be both "American" and "Muslim" is a powerful message that would open British Muslim eyes to American cultural and religious diversity as well as encourage reflection on the part of British Muslim community in a positive, self-defining direction. Our expected outcome would be to reach thousand of British Muslims, including the disproportionately high youth population, with these positive messages.
The group "Allah Made Me Funny" consists of three American Muslims.  In a 2004 comedy tour, Azhar Usman tells a joke trying to explain why Muslims do not like Americans, he suggests the problem is that Americans are killing Muslims.  Azhar also jokes about the great need to vote George Bush out of the White House.  Mohammed Amer jokes about airport security and terrorism, particularly that box cutters should not scare anyone.  Amer jokes that a pork chop is scarier than a box cutter and would be a more effective weapon.  Amer also jokes about growing up a Baptist and the reaction his Baptist grandmother had to his conversion. The final member, "Preacher Moss," explained George Bush provides a great deal of comedic material, and shared a little of it.