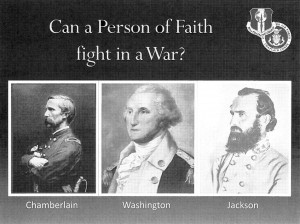 The US Air Force wants to make sure soldiers have no ethical concerns when it comes time to launch a nuclear warhead. One Electronic Warfare Officer tells us "each of us in the strategic nuclear deterrent force must establish a moral foundation for our service."
The Vandenberg Base Ethics Briefing on Nuclear War focuses on Christians. People of Jewish faith are reminded that there is "no pacifistic sentiment in mainstream Jewish history" and that Maccabees recorded an account of "Jewish revolt against their Syrian oppressors." It appears the US Air Force didn't see the need to convince Muslims that their faith is compatible with war, but they did provide a referral to the Islamic Center of Lompoc.
The main focus of their presentation is for Christians. To be sure that their nuclear officers are ready to launch, they are taught Augustine's Just War Theory. They build a case by presenting examples of war from both Old and New Testament, pointing out "John the Baptist doesn't tell the Roman soldiers to leave the army before being baptized."
Following the Biblical examples of war, a case is made for nuclear war as a way to save lives. Finally, the nuclear officer is left with a bonus question. "Are we morally safer in other career fields, leaving the key turning to someone else?" In other words, someone is going to do it, might as well be you!
Vandenberg Base Ethics Briefing on Nuclear War
Documents obtained by Michael Morisy via the Freedom of Information Act using MuckRock.com.