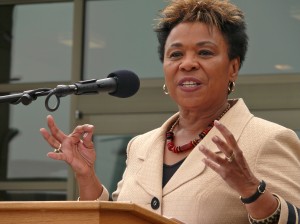 "The direct and indirect effects of climate change have a disproportionate impact on marginalized women such as refugee and displaced persons, sexual minorities, religious or ethnic minorities, adolescent girls, and women and girls with disabilities and those who are HIV positive." -Congresswoman Barbara Lee, CA.
Congresswoman Barbara Lee of California's 13th congressional district introduced a resolution in the house "recognizing the disparate impact of climate change on women…" back in April of 2013. The bill has garnered 26 co-sponsors from other representatives to show their support of the resolution. The resolution asserts "women will disproportionately face harmful impacts from climate change." To illustrate this point, Lee and her colleagues say "climate change exacerbates issues of scarcity" which leads them to the surprising conclusion that "food insecure women with limited socioeconomic resources may be vulnerable to situations such as sex work, transactional sex, and early marriage that put them at risk for HIV, STIs, unplanned pregnancy, and poor reproductive health."
Photo, U.S. Congresswoman Barbara Lee, by Flicker user dsleeter_2000, some rights reserved.