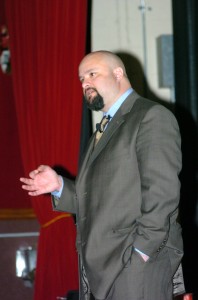 Ergun Caner, now president of the Southern Baptist Brewton-Parker College, continues to sue two Christians, one of which is the pastor of an Arizona Southern Baptist Church (and the author of this website). The truth behind the lawsuit is well summed up in today's legal brief filed by counsel for the defense, Kel McClanahan: "[Ergun Caner] is not in fact interested in protecting his copyright but is instead only interested in silencing his critics." Caner's complaint against Pastor Smathers is the mere writing and publishing the article, United States Marines duped by pretend jihadist, Ergun Caner, with video footage embedded as proof that the claims made were true. Caner has claimed copyright on these videos despite the fact that the video was produced by the US Government, released under the Freedom of Information Act, and is not subject to copyright.
On January 15, 2014, the court split the case into two, one against defendant Pastor Jason Smathers and one against defendant Jonathan Autry. The court also ordered Autry's case moved to the Western District of Virginia (Lynchburg), ruling that filing in Texas was not proper. Pastor Smathers believed Texas to be improper as well, but declined to take issue with the jurisdiction, in hopes of solving the matter quicker instead of first dealing with jurisdictional issues. The case now continues as two, one in Texas as Caner vs. Smathers and one in Virginia as Caner vs. Autry.
McClanahan submitted the final briefings on two motions to dismiss today, January 21, 2014. Below are some of the more interesting quotes from these motions. Both complete motions are embedded at the and of this article.
"As an initial matter, it is noteworthy that the extent of Caner's "testimony" supporting his Opposition is relayed solely in his brief without even a sworn declaration to support it … unsworn factual assertions attributed to a party in a brief written by his attorney simply do not qualify as "evidence." Why Caner chose not to properly offer his testimony under oath is unknown, but ultimately irrelevant; the fact is, he did."

"Caner asks the Court to find as a matter of fact that not one but several officers of the United States Marine Corps violated clear and unequivocal Department of Defense regulations regarding contracting for services to not only contract him to give two speeches but to pay him for it. In support of this outlandish argument, he only states—in unsworn testimony—that he does not recollect signing a contract, and that therefore he did not assign the copyrights."

"Caner then attempts to argue that because the United States did not publish the videos on the Internet, it is not an indispensable party. In making this argument—in a total of seven lines—Caner demonstrates a clear lack of understanding of the purpose of Rule 19(a)(1)(A), while simultaneously revealing to the Court his true motivation for filing this suit."

"Most noteworthy, though, is the fact that Caner completely fails to address any of Smathers' arguments regarding his lack of a viable and protectable copyright interest and Smathers' fair use defense … when a plaintiff files an opposition to a dispositive motion and addresses only certain arguments raised by the defendant, a court may treat those arguments that the plaintiff failed to address as conceded … the Court does not even need to reach either of the two questions discussed above to dismiss this case or grant summary judgment for Smathers; it can do so solely based on the arguments made in Smathers' brief that Caner declined to oppose."
Pictured: Doctor Ergun M. Caner addresses the "War Eagles" during a period of military instruction at the MCAS New River Theater on April 15. Caner conducted two periods of instruction regarding misconceptions and strategic protocols of a jihad. Photo by: Lance Cpl. Michael Angelo. This image is a work of a U.S. military or Department of Defense employee, taken or made as part of that person's official duties. As a work of the U.S. federal government, the image is in the public domain.