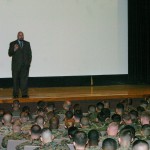 Ergun Caner's lawsuits have been deemed frivolous and he is now liable for $59,183.39 in legal fees. Ending a sixteen month saga, Judge Terry Means has awarded Jason Smathers (this author) $24,379.80 in attorney fees, adding to the $34,262.50 awarded in the companion case against Jonathan Autry and $541.09 in other legal fees awarded by the courts.
In an attempt to suppress criticism, Caner sued Smathers and Autry in June of 2013 for alleged copyright infringement. Both cases included the posting of video footage of Caner lying to the US Marines as part of a cultural training event where Caner purported himself to have been raised in the Middle East in radical Islam. Autry's case also included several other videos. Caner dramatically lost both cases, in one ruling the court called Caner's claims "ludicrous" and "outlandish."
In today's ruling, Judge Means opined that "a reasonable person who is represented by competent counsel would not pursue such a claim" as Caner made. Means said an award of attorney fees will compensate "for having to defend against an unreasonable claim of copyright infringement and deter others who seek to silence criticism in the public forum by improperly invoking the protections of the Copyright Act."
Judge Means pointed out that at the time Caner filed his copyright lawsuit, he had not even submitted an application for copyright registration, which is a prerequisite to filing a copyright infringement lawsuit. This conduct suggested to Means that the lawsuit was frivolous and weighed against Caner in the decision to award attorney fees.
In July, Judge Norman Moon awarded Autry his legal expenses with a scathing memorandum opinion that labeled the lawsuit as both frivolous and brought with the improper motive of suppressing legitimate criticism.
Fee award in Caner vs. Autry
Download PDF

Fee award in Caner vs. Smathers
Download PDF

Image by Lance Cpl. Michael Angelo, a U.S. military employee, taken or made as part of their official duties. As a work of the U.S. federal government, the image is in the public domain.